What is Vinyasa yoga?
Vinyasa yoga is a variant of Hatha yoga but, unlike this rather static and strength-centered style, one of its classes will be much more dynamic. The different positions, also called asanas, are not performed individually but in a sort of continuous flow, one after the other.
The common element between the two variants, however, is breathing: as in Hatha yoga, in fact also in Vinyasa the movements must be performed in synchrony with the breath.
The term "Vinyasa" derives from Sanskrit, the ancient Indian language, in which "vi" means "in a specific way" while "nyasa" stands for "place, arrange". As the name itself implies, the set of movements of this style is therefore chosen in a precise way.
This is decided by the teacher and this is precisely what characterizes the Vinyasa sessions, which will always be different from each other. Unlike Ashtanga yoga, which involves the execution of predefined series, Vinyasa is, therefore, a free and creative style.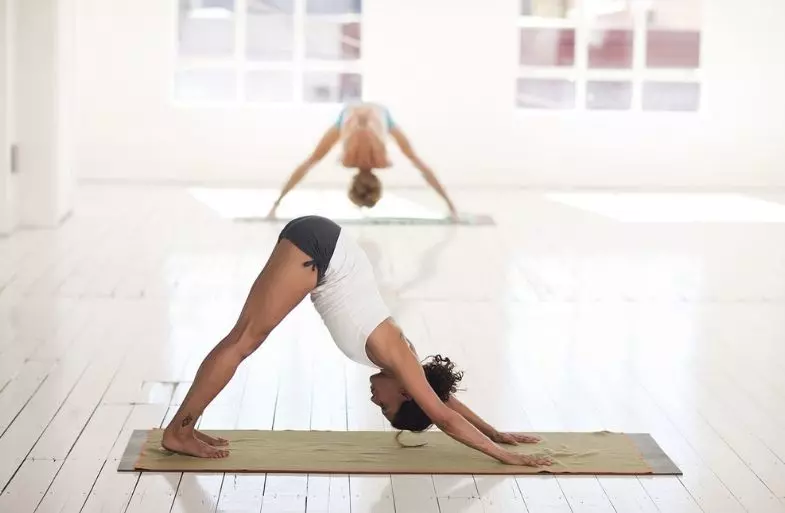 How Old Is Vinyasa Yoga?
Vinyasa Yoga is a fairly modern style of Yoga. Its first definition describes Vinyasa as the connection between body movement and breath. And it is exactly that: a sequence of movements coordinated with the breath. Each position is connected in a fluid and dynamic way to the next one.
At the same time, the movements of the body are coordinated with breathing: each movement occurs during exhalation or inhalation. It is a wonderful approach to yoga that immediately conquers with its powerful effects and its immediate enjoyment.
Following the principle of the harmonic flow of breath and movement, the student's mind is soon totally immersed in the practice, diverted from its usual patterns and the "outside" world.
In the search for union (which is precisely the meaning of the word yoga) of breath and movement, and of the various asanas and sequences, it is easy to be able to get in touch with our inner world, to detach the head from thoughts. Which is one of the purposes of the practice.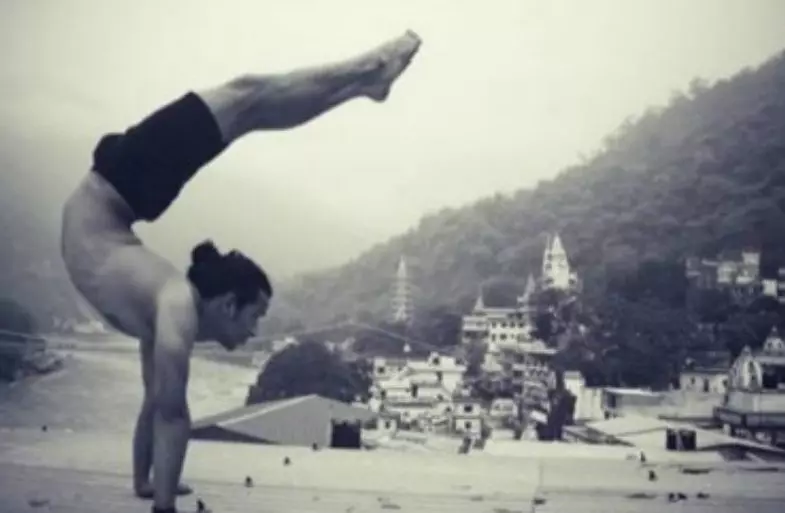 How does Vinyasa yoga work?
Vinyasa yoga is based on three pillars: let's find out what they are.
The movements and breathing are synchronized with each other: dynamic asanas are associated with controlled breathing, the so-called Ujjayi technique, which requires the movements to follow the breath and not vice versa.
It's all a question of "flow": in Vinyasa yoga, the transition from one position to another requires the same attention as the asanas themselves. All the elements are linked together, forming a continuous flow.
Pure creativity and freedom: although some asanas recur regularly, this practice does not include any fixed sequence. Yoga teachers can therefore define their flows in a completely free way, ensuring you always have new stimuli.
A classic Vinyasa yoga session generally lasts 60 to 75 minutes and is made up of several sequences. Initially, the teacher proposes a short meditation or a breathing exercise, often accompanied by a theme or maxim on which the lesson will focus. Warming up generally includes a greeting to the sun or a variant thereof; then the real flow begins, which can always be composed differently.
Each instructor has their style, and, depending on the focus chosen, they can decide to focus more on muscle strengthening or mobility, or specifically train certain parts of the body such as arms, shoulders, chest, or hips. The lesson ends with the so-called Savasana, that is the position of the corpse.
The benefits of Vinyasa yoga
The decisive rhythm and the continuous variations in the fascinating series of positions make it an excellent physical exercise, able to keep the body in its optimal shape through all stages of life.
Controlled breathing calms the nervous system and cleanses the internal organs, blood vessels, and lymphatic system, improving health and generating a deep sense of well-being. The dynamism with which the asanas are achieved also allows the release of 'bandhas', voluntary physical contractions.
The movement generates body heat that loosens the muscles, improving blood circulation and promoting the expulsion of toxins. Coordination and agility train the breath and empty the mind; concentration and mental clarity are strengthened, also removing psychological tensions.
Last but not least, Flow yoga allows you to acquire flexibility and strength, which is why it is suitable for athletes who want to improve their performance. But it is also suitable for pregnant and elderly women since through greater awareness of the capabilities of body and mind, a renewed balance is also achieved.
Here are other possible benefits of Vinyasa yoga:
It helps you mobilize joints, tendons, and ligaments, especially in the area of ​​the spine, to counteract or prevent any muscle tension and other disorders.
Many asanas also allow you to train stability and a sense of balance.
Vinyasa yoga strengthens the muscles of the whole body, especially the deep core muscles.
Dynamic movements reactivate the cardiovascular system and train endurance.
This practice improves your mobility and loosens the fascial tissues.
Who is Vinyasa yoga suitable for?
Vinyasa is indicated at basically every level. However, those who have no experience yet may have some difficulty fitting into a more intense class; in this case, it is advisable to start with a course for beginners. If possible, before attending a Vinyasa session you should already be familiar with the sun salutation and be able to perform basic asanas.
A Vinyasa hour can also be very demanding: if you want to release tension and sweat properly, then it will be right for you, as well as if you love dedicating yourself to always new things and pushing your body and mind to their limits.
In addition, Vinyasa yoga is suitable for all those who would like to try their hand at meditation but who have so far let themselves be frightened by the idea of ​​sitting for a long time in "static" mode. Through these flows, you will be able to free your mind and breathe with awareness.
A tip: take a look at our Yoga article for beginners and find out everything there is to know before starting to practice this discipline.
Should I Practice Vinyasa Yoga?
Yes, we recommend doing so. We have said that Vinyasa yoga can be considered a kind of "meditation in motion". Particularly dynamic asanas performed in tune with breathing should in fact lead you into a sort of meditative state, in which you can let your thoughts go more easily and focus on the here and now on your mat. Vinyasa is, therefore, an excellent practice for increasing the so-called "mindfulness", as well as the awareness of one's body.
Vinyasa yoga focuses on dynamic movements performed in a kind of flow and in sync with breathing.
A Vinyasa session involves a creative flow, given by a sequence of different asanas.
Each lesson is focused on a specific goal and the teacher can set a different flow each time, thus providing students with new stimuli.
This style strengthens the muscles, mobilizes the body, and trains balance and endurance.
Vinyasa is suitable for all levels, however, with some basic knowledge, it will be easier to follow a fast-paced flow.
This practice is suitable for all those who want to release the tension on the mat and free themselves from the thoughts that block them most thanks to a sort of "meditation in motion".
Alternatives to Vinyasa yoga
Does Vinyasa seem too dynamic or excessively creative and maybe you would prefer to try your hand at a more calm and structured style? Then one of these practices might be right for you:
Hatha yoga: Hatha yoga consists of all of the exercises aimed at strengthening the body combined with conscious breathing. Compared to Vinyasa this style is calmer and rather static, in fact, the transition from one position to another does not happen smoothly. A Hatha course will allow you to learn the basic principles of yoga and is therefore perfect for beginners.
Ashtanga yoga: this discipline is more similar to Vinyasa but follows precise rules, as it involves six sets of exercises that are repeated in each session, without pauses, and at a fast pace. This style is especially suitable for advanced yogis, who value physical structure and intend to improve their performance.
Power yoga: this is a variant of Ashtanga, but in this case, the exercises are adapted to the level of the students. It represents a middle ground between other styles: it is not structured like Ashtanga but is less creative than Vinyasa and is not performed in a flow.
A conclusive tip
After an intense sequence of Vinyasa Yoga, it is important to drink enough to rehydrate, as yoga generates heat throughout the body. Especially on the hottest days, it is important to restore the body gently, avoiding causing a "shock" by drinking ice water. To maintain the state of relaxation achieved with yoga for as long as possible, it is better to opt for a hot drink.