Why Do People Get Tattoos?
Tattoos are quite popular in the world. Many people get tattoos for different reasons. Some people want to remember their loved ones, some people their hobby or their favorite symbol, some people want to commemorate a great moment like their graduation day, and others might want to express themselves better.
People usually get tattoos to express themselves in a certain way or because they cherish something or someone. These reasons could be personal or they could be because of social pressure.
Tattoos don't come cheap either. The cost of getting one ranges from $100 to $800 depending on where you go and what size your tattoo will be. The good news is that it doesn't take long for the tattoo removal process either so if you find out later that you didn't like your tattoo, there is no need to feel bad
What Are The Reasons For Removing a Tattoo?
There is a moment in life when you don't like your tattoo anymore and are you thinking of removing it. The reason could be anything like; You broke up with your longtime boyfriend, and now that tattoo you got yourself done with so much love brings back only bad memories. Or the tattoo that has been with you for years you don't like or don't like, or it doesn't reflect you anymore.
After thinking about it for a while, you have decided that it is time to remove it. But what are the safest treatments for removing a tattoo without leaving scars? And how much do they cost? We tried to answer the most common questions.
How can you remove a tattoo?
If your old tattoo no longer convinces you, you can think of covering it with a cover-up, that is a new tattoo, larger than the previous one, which completely covers it, transforming it into something new.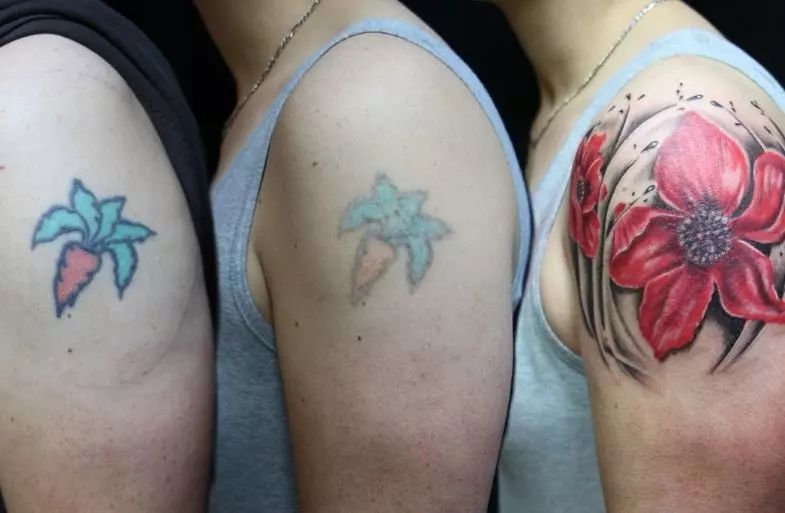 But if you want to eliminate any trace of ink from your skin, then you will have to go to a specialized center that uses the currently most popular techniques to make that tattoo that bothers you so much disappear.
The first recommendation we would like to make you, as obvious as it may seem, is not to trust the tricks you may find on the web to remove tattoos at home, for example, removal with salt. Not only do these expedients not ensure the success of the goal you have set for yourself, but the risk of finding yourself with ugly scars is high.
Returning to professional tattoo removal techniques, over the years experts have experimented with many, from dermabrasion to peeling with pulsed light acids. However, these methods did not guarantee satisfactory results and, over time, it was concluded that the safest and most successful procedures are those with the laser.
How to remove a tattoo with a laser?
The most used machinery currently is the one that emits q-switched laser beams and works by reducing the colored cells into many "pieces", thus allowing the body to dispose of them.
Another laser technology to remove tattoos is Picosure. Also in this case the tattoo is fragmented, but the particles are smaller than the previous one and, therefore, it will take fewer sessions to see the tattoo disappear.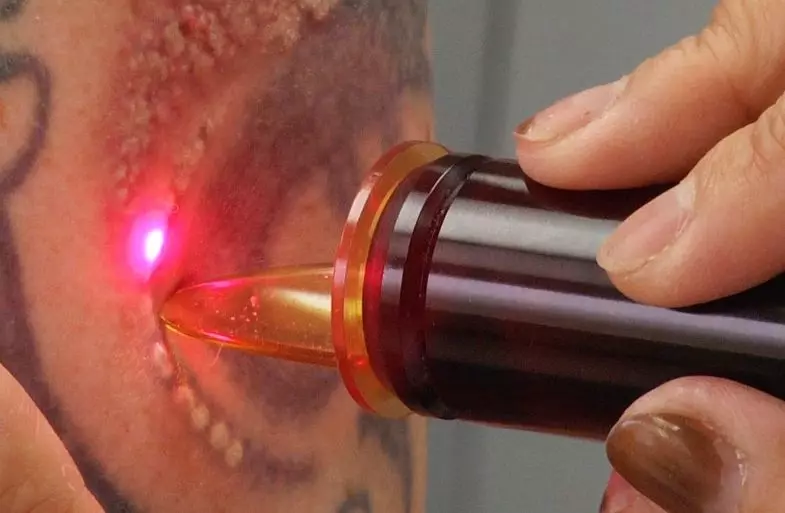 How to remove a tattoo without a laser?
If, on the other hand, you are thinking of deleting your tattoo without a laser, know that these methods hardly guarantee its complete cancellation. The electrodermograph, for example, fades the ink facilitating a possible cover-up.
The place, on the other hand, is a special plasma scalpel that is used to remove the most superficial layers of the skin and bring out the inks which will then be eliminated with a particular application of a saline solution.
Other tools that could be proposed to you to eliminate your tattoo are the T.E.S. (Tattoo Erase System), which promises to remove pigments through chemicals injected with microneedles, while you will have to be careful of those who propose you to use the Skinial liquid, a substance that a few years ago came under investigation because it was deemed unsafe.
How much does it cost to remove a tattoo?
The cost of removing a tattoo depends on the technology used and the number of sessions required. Indicatively, a session with a q-switched laser starts at 150-400 euros (EU) and about 200 – 500 US (North America) dollars, the complete elimination, therefore, can also be very expensive.
How long does it take to remove a tattoo?
To establish the time it takes to remove a tattoo, it is necessary to take into account several factors: from the size of the design to the type of pigments used by the tattoo artist up to the degree of absorption of the pigments by the skin. In any case, 3 to 8 sessions are needed to remove a tattoo, spaced at least one month apart.
Which tattoos cannot be removed?
The depth, density, and type of pigment used for the tattoo are also among the elements that can make it difficult to remove the tattoo. The color of the drawing can also contribute to a difficult or imperfect removal: black and other dark colors, for example, are much easier to remove than tints such as white and yellow.
Even the phototype to be treated can affect the success when it comes to erasing a design from the skin: the laser will be able to "read" the inks on a light complexion much more easily than on olive or black complexion
Tattoo Removal Methods And Their Side Effects
Tattoo removal methods have an adverse effect on the tattooed area. The following are the most popular methods of tattoo removal and their side effects.
Laser Tattoo Removal: This method is a non-invasive procedure that uses a laser to break down the ink particles in the skin, which then speeds up the body's natural removal process. The laser light passes through the skin to break up and scatter the ink into particles that are too small for detection by the naked eye. Side effects include blistering, burning, pigment changes, scarring, or discoloration of treated area.
Freezing Tattoos: It is a non-invasive technique in which a cryogenic solution is used to freeze tattoos off your skin with cold temperatures (-20°C).
Side effects: The side effects of these various methods vary from person to person due to their skin type and an individual's experience with their environment. The risks for individuals with dark skin include painful blistering, scarring, inflammation, and burns if they are not careful about how they handle their tattoos removal process.