Spiritual health definition
Spiritual health is the sense of wellbeing that comes from connecting with one's higher power or universal power.
Spiritual health is more than just physical health. It encompasses the whole person, including their emotional and mental well-being.
The word "spirit" can be used to refer to the soul or the life force energy that animates our body and all living things. The word "spiritual" can also refer to that central dimension of you – your innermost self – that provides you with a deep sense of who you are, where you come from, where you are going and how you might achieve your goal.
Spiritual health is a highly individualized concept, which is measured by the amount of peace, and harmony an individual experiences in his or her daily life.
Spiritual well-being is subjective
You might not think much about spiritual health or well-being and the role it plays in your life, but its meaning is stronger than you might think.
Spiritual well-being can mean different things to different people. For some, spirituality may be synonymous with traditional religion, while for others it mainly refers to the quality of personal relationships or love for nature.
The basis for spiritual well-being: "it can be the feeling that life has a meaning and that it finds its place within life itself".
The search for meaning and purpose in human existence leads to striving for a state of harmony with oneself and with others while working to balance inner needs with the rest of the world.
What Does The Term Well-being Means?
The term "well-being" can mean a variety of different things to different people. For some, well-being manifests itself through physical activity such as sport or exercise. For others, it can take a more internalized form through spirituality or mindset.
Regardless of what wellness means to you, there are ways you can practice healthy habits daily to achieve better physical, mental, and overall well-being. Now more than ever we need to take care of our minds and body. Signs of spiritual well-being:
Spiritual well-being is an individual's sense of wholeness and peace. It can be achieved by developing a healthy balance between mind, body, and spirit.
Developing a purpose in life
Ability to spend reflective time alone
Take time to reflect on the meaning of events in life
Have a clear sense of right and wrong and act accordingly
Ability to explain why you believe what you believe
Take care and act for the well-being of others and the environment
Being able to practice forgiveness and compassion in life
The human spirit is the most neglected aspect of ourselves.
Just as we exercise to condition our bodies, a healthy spirit is fueled by intentional practice.
The spirit is the aspect of ourselves that can take us through anything. If we take good care of our spirits, we will be able to feel a sense of peace and purpose even when life takes a hard hit.
A strong spirit helps us to survive and thrive gracefully, even in the face of difficulties.
Have a purpose
The development of spiritual health generally begins with an individual's desire to give purpose and meaning to life through an internal examination of the worldview.
For example, some individuals believe in a higher power that intervenes in their life when they pray. Therefore, these people spend time praying every day or week to foster their spiritual health.
Other individuals believe that meditation, or silent attention to one's inner being, is necessary to find a path of enlightenment that elevates their spiritual health for the duration of their life.
Are you spiritually healthy? Ask yourself the following questions:
Do you have a positive outlook on life?
Do you feel a sense of serenity, peace, or worth?
Do you have a sense of purpose or meaning in your life?
Do you have feelings of emptiness, anxiety, hopelessness, or apathy?
Do you face a lot of conflicts in your life and keep ending up with the same negative thought patterns or attracting the same kind of negative people into your life?
In case you hear more of the last two points, it's time to reflect on your life, yourself and start improving your spiritual health. Identify some things in your life that give you inner peace, comfort, strength, love, or connection.
Things that can help you spiritually could be community service, volunteering, meditation, spending time in nature, yoga, tai chi, reiki, chanting, reading, etc.
Start looking for the larger image. Start thinking outside the box. Live joyfully, smile, and laugh a lot. Be grateful and forgiving. Be open to new experiences, new people, new opportunities. It is the part of us that allows us to find meaning in our life.
What Is Spiritual Wellness And Its Importance?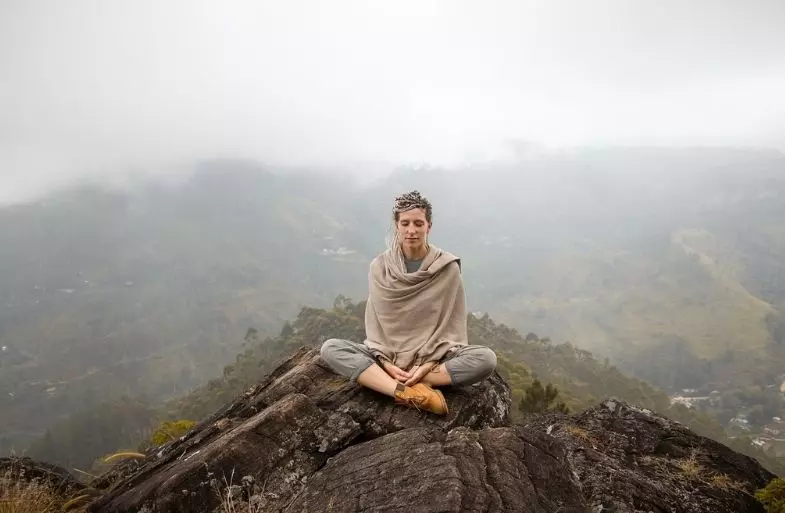 Spiritual well-being is more than an umbrella term that includes every aspect of your soul and spirit, which ultimately ascertains the state of your health. It is the pinnacle of peace and harmony achieved by a tireless search for the reasons why you have been granted the gift of life and its sustenance.
When one is able to find the answers to his questions, these solutions form the basis on which one is able to establish beliefs and values that will be the main motivation for every action one takes in life. The achievement of spiritual well-being gives man the highest level of understanding of himself and of mother nature, giving him the tool to travel this journey in the right way, without deviating or losing the course, since the resulting beliefs act as a compass. .
Spiritual well-being is connecting to something greater than yourself and following a set of values, morals, and beliefs to guide your actions and help form meaningful habits. Habits can also provide a sense of purpose and meaning.
The spiritual well-being and habits it helps create and enforce have the potential to make your decisions and choices easier and to keep you grounded during times of change. This practice has become even more important during the uncertainty and instability related to COVID-19.
Tips for spiritual well-being
Have a powerful reason. Remind yourself regularly why these changes are important and your motivation to adjust. Write, draw and visualize the whiteboard your way and place it in a meaningful spot in your home, on your phone, or office.
Ask "what" instead of "why". This may seem like changing your mindset from "why can't I follow?" or "why am I always stuck at this point?" to "what do I have to put in place to take the next step?"
The Importance Of Physical Wellbeing
These are the things you do when you avoid something. They may appear to be scrolling on social media, eating, exercising, or getting into conflict with a roommate. Don't feel guilty and don't start a cycle of negative talk. Take note of your habits and go back to a value you are working on to take it one step further.
Physical well-being involves making choices to make our bodies meaningfully align with our values ​​regarding our physical health. Physical wellbeing balances all aspects of the physical self which includes sleep, movement, nutrition, hygiene, relaxation, sexual health, disease and injury management, and drug and alcohol use.
If we combine all the benefits of paying attention to our body's wants and needs, we can improve our way of thinking, the way we feel in our body, and our mood. Balancing activities for all areas of well-being takes time, intentionality, and compassion.
Physical Wellness Tips
Ignore the prescriptive language that requires you to label or measure your activities. This may seem like giving up what people tell you what "you should" or "should" do. Physical well-being will look different for everyone, so let go of any preconceived notions!
Don't wait for motivation to do something, do it when you think about it. Motivation can be difficult when it comes to physical activity, so try to hone and take advantage of your mindset when the opportunity arises.
Finally, have fun, do what feels good, and don't overdo it. Physical activity should be enjoyable and make us feel good. Whether it's an evening stroll or jujutsu, find out what your interests are and follow them!
The Importance Of Intellectual Wellbeing
Intellectual well-being is the creativity and mental growth that we have developed through school, but on topics, we choose. Thought to expand our knowledge and skills, cultivating intellectual well-being may seem like a school, but overcoming these feelings and keeping in mind that you are in control of what you learn can keep them at bay.
Intellectual well-being also helps stimulate creativity and curiosity, which helps us to continue interacting more with the world around us. Curiosity helps us to be open to new things and new experiences.
Tips For Intellectual Well-Being
When curiosity strikes, follow it. This can help develop a love of learning and a philosophy of "lifelong learning". Knowledge is endless, so take advantage of it when a new topic piques your interest.
Start the goals with words like expanding, create, develop, analyze, criticize, focus, understand, evaluate, problem solve, predict, understand, etc. This places learning and intellectual growth at the forefront of that goal.
Pick a hobby that seems difficult at first. Learning isn't always meant to be easy, but it's almost always rewarding. By challenging yourself you will grow both intellectually and personally.
The Importance Of Social Wellbeing
Social well-being refers to the relationships we have and how we interact with others. This dimension involves building healthy, nurturing, and supportive relationships, as well as promoting a genuine connection with yourself and those around you.
Social well-being is important for maintaining harmony in all relationships, from acquaintances to close friends and close relatives. This dimension is essential for building resilience in other dimensions as well, such as emotional well-being.
Social welfare tips
Tune in to your social interactions and be present in your social interactions. Consider questions like, "How do I feel when I engage in this interaction?", "What are my values ​​supported by this relationship?", Or "What do I appreciate about this relationship?" By tuning in, you will begin to gain perspective on how to maintain harmony, how to deal with conflicts, and where to set boundaries.
Find time for yourself and your interests. Cultivating yourself is key to being able to be sociable with others. Think about your aspirations for this dimension. Have you always wanted to be on that committee or participate in that community activity but never did? Have you always wanted to start that routine or ritual with your friends or family? Maybe it's time to put your intentionality into practice and finally commit.
Get creative. If you feel like you are already slim or you are not someone who needs a lot of social interactions, you can still nurture your social well-being in other ways. Perhaps you spend time outdoors with a pet or your plants and engage socially with the occasional greeting from a passing stranger. Think about how to embark on this journey that works for your plans and needs!
The Importance Of Emotional Wellness
Emotional well-being is the process of recognizing, understanding, and accepting our emotions. It involves the ability to stay in the present moment and to effectively manage the changes and challenges that come our way.
Emotions are an important part of being human, allowing us to experience life in a meaningful way. When we choose to interact with our emotions, we can get to know each other better, learn a deeper understanding of why we feel this way, and decide how to move forward based on our values.
Emotional Wellness Tips
Awareness. Mindfulness is the practice of attuning to the present moment. This tool creates an intentional space between a reaction and an action, allowing us more freedom to choose how we want to act.
Diary of gratitude. A gratitude journal offers us a personal place to remember the good things in our life. When we write down the things we are thankful for, our brains release the "feel good" hormones – dopamine and serotonin. This improves our mood, helping us feel optimistic and experience more joy and pleasure.
Find a confident person to share your emotions with. Being transparent with a trustworthy person who will listen to what we are going through often helps us feel less alone in our experience. It's an opportunity to turn a bad feeling into a better one by risking being known, as well as nurturing connection and support.